SARS-COV-2 Nucleocapsid (N) Antigen Rapid Detection Kit developed by Nanjing Synthgene Medical enters the whitelist of French COVID-19 detection products
---
On October 12, SARS-COV-2 Nucleocapsid (N) Antigen Rapid Detection Kit(Colloidal gold method) developed by Nanjing Synthgene Medical enters the whitelist of French COVID-19 detection products
SARS-COV-2 Nucleocapsid (N) Antigen Rapid Detection Kit developed by Nanjing Synthgene Medical enters the whitelist of French COVID-19 detection products
On October 12, SARS-COV-2 Nucleocapsid (N) Antigen Rapid Detection Kit(Colloidal gold method) developed by Nanjing Synthgene Medical enters the whitelist of French COVID-19 detection products
ANSM is the abbreviation of the French Agency for the Safety of Medicines and Health Products. During the epidemic, ANSM formulated a temporary access policy for COVID-19 antigen detection products. After obtaining the access permission of ANSM, the products will be registered on the recommended use list ("French White List"), the French self-tested product whitelist is the most difficult to apply for in the whitelist of various countries, and the gold content is also the highest. At present, there are few companies in the Antigen antigen self-test list published on the French SANTE website, and companies such as Nanjing Synthgene Medical and international brand Abbott are among them.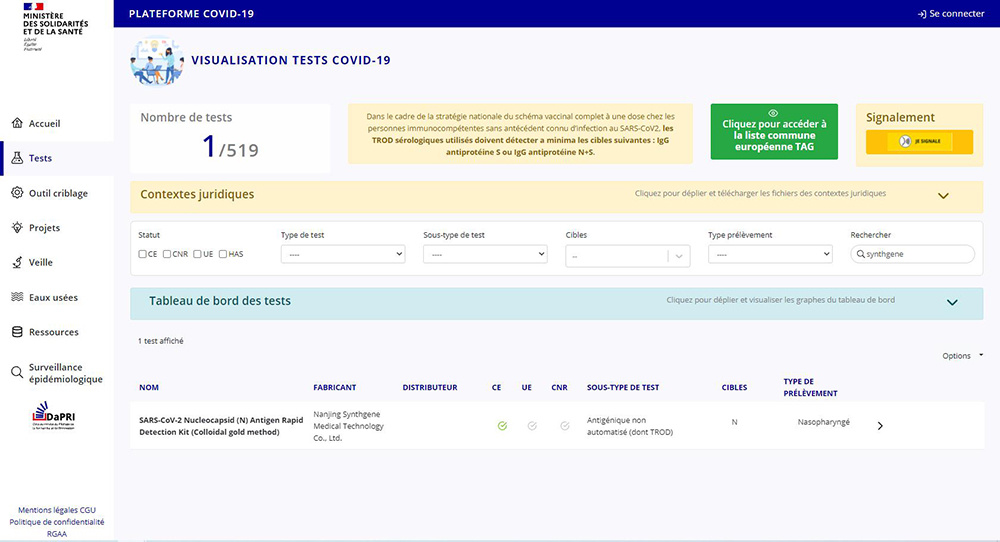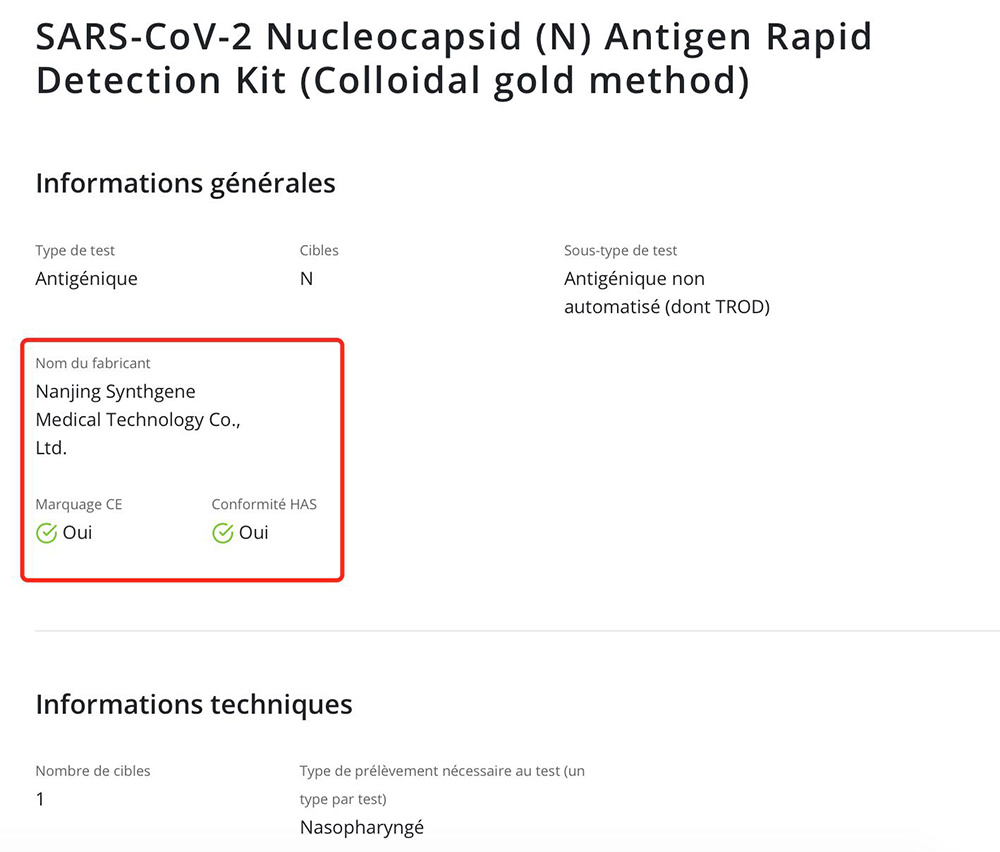 SARS-COV-2 Nucleocapsid (N) Antigen Rapid Detection Kit developed by Nanjing Synthgene Medical obtains an emergency authorization permit from France means that Nanjing Synthgene Medical 's COVID-19 antigen self-test kit can be sold in France, and French citizens can purchase the product through supermarkets or pharmacies for self-testing, this will provide strong support for the French epidemic prevention and control.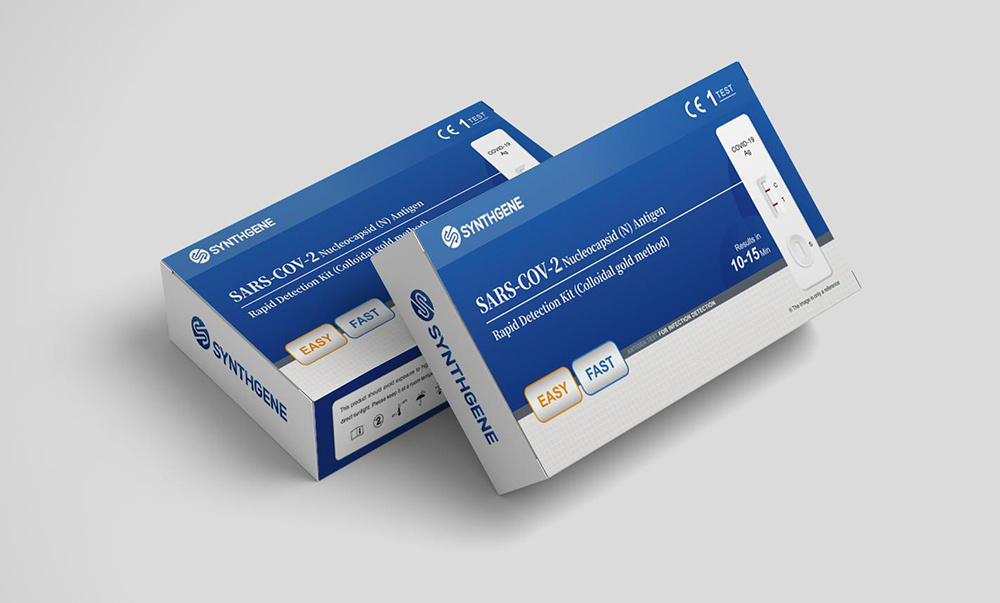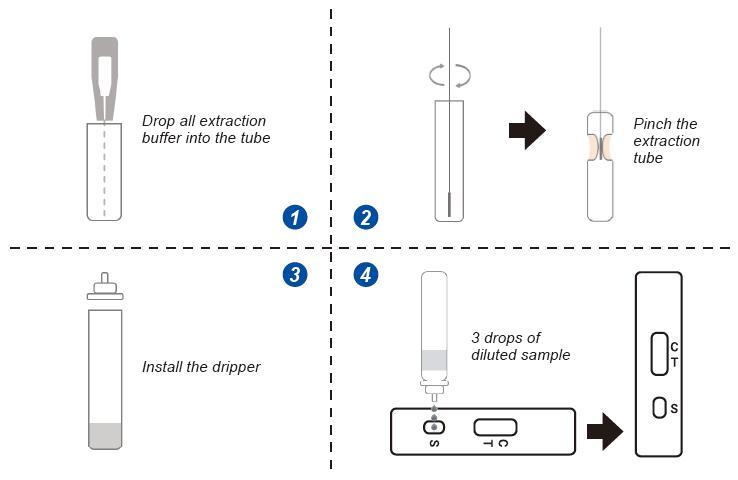 SARS-COV-2 Nucleocapsid(N) Antigen Rapid Detection Kit (Colloidal gold method) is used to detect the novel coronavirus antigen in human nasal swab samples, and is used to detect the Delta strain and other global epidemic strains, and the results can be obtained in 10 minutes.
Previously, the product has obtained the European Union CE, Japan, Iran, Lithuania, Indonesia and other countries and regions access qualifications, and has contributed a solid force to the global COVID-19 epidemic prevention and control. At the same time, it has won orders from many governments and won unanimous praise from overseas customers!
Features:
1.Convenient sampling (non-invasive sample collection is convenient for individuals and families to independently detect the COVID-19 virus)
2. Simple operation (convenient operation, no need for professional equipment)
3. Fast detection (test results can be obtained quickly in 10 minutes)
4. Accurate results (highly accurate, comparable to PCR detection)